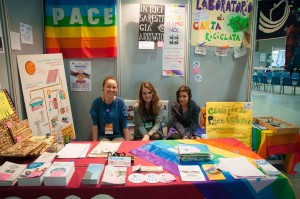 In the last weekend of March, the fair Fa' La Cosa Giusta!was held in the huge exhibition space at Fiera Milano City and Casa per la Pace had a stall promoting the organisation (as you can see!) The fair, so called 'Do the right thing!', is an annual event that centres around consumption and sustainable living with the aim of raising public awareness on the issues of immigration, poverty, the coexistence of different cultures and the promotion of sustainable lifestyles. 
There were hundreds of different stalls all promoting various causes which all centred around these core values. For example, there was a huge variety of sustainable food and drink stalls where you could sample, purchase and even learn how to cook different products. We definitely made the most of the free samples – the ice cream in particular was very good!
There were also lots of different events going on throughout the weekend for all ages. Casa Pace was involved in organising theatrical and recycling workshops and as EVS volunteers we also presented EVS; what EVS is, how individuals can get involved and how Casa Pace can act as a sending organisation.
The weekend was a lot of fun to help with and it was a good way to discover different things that are happening in Milan. As an organisation it's great for promotion and creating contacts and connections with individuals and other organisations. Although for visitors it costs to attend the fair, if you are interested in the topics the fair promotes I would recommend going in the future to see what it's all about!