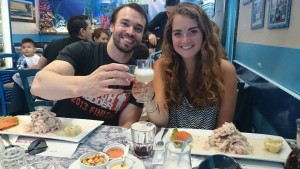 When wanting to eat out in a new city, the usual questions of: Where to go? What to have? Do I leave a tip or not? What is the eating-out-etiquette? usually pop-up.
For all of these dilemmas and more, have a look below as we explain our essential DOs and DON'Ts for having a nice meal in downtown Milan.
So here's what you have to know:
1. Aperitivos in Milan (quite possibly the most useful invention since electricity)
What does it mean? Everyday from 6-10pm, all the bars in Milan have a fixed aperitivo price (from €5-10 euros depending on the bar) which includes any drink from the menu and an all you can eat buffet. Taking into consideration that a normal drink may cost anywhere between €5 euros for a glass of wine or beer and €8 for cocktails, for €10 euros you can have a drink of your choice and leave full of great buffet style food. A real life saver when wanting to eat out cheaply in Milan!
This is a very common thing all over MIlan so either if you go to the Porta Genova area – Navigli – famous for its bars and great aperitivos, or to a small bar near Piazza Loreto or Corso Garibaldi, you will find the same system.
The choice and range of food changes from place to place so it's useful to scout out the best places to find exactly what you're looking for. Some of the better bars offer a full buffet including the likes of pasta, paella, mozarella and olives salads, couscous, rice, different types of cheese and prosciuto, fruit and so on, whereas others may just offer small light-bites.

From our extensive Aperitivo experience in Milan, we recommend:
– Manhattan/Long Island: metro stop Porta Genova, on the Navigli. It boasts an amazing choice of food and alcoholic and nonalcoholic drinks for €10. Although at the upper end of the price range it doesn't disappoint! It's so good they even opened another bar just a few bars away on the Navigli and both spots are guaranteed to be full every night of the week!
– Pacino Cafe: metro stop Lima. Smaller aperitivo than those offered on the Navigli but very nice, fancy bar with a good choice of food for only €6. A good aperitivo price for the Corso Buenos Aires area.
– Ristorante Sushi 189: Corso di Porta Ticinese. Although not an aperitvo bar, it is an all you can eat Japanese and Chinese restaurant with excellent food and prices with lunch costing €9 and dinner €15. If sushi is what you're after, this is the place to go!
These are the ones that we tried and adored. Other Milanese opinions can be found in these city guides:
  http://www.milano-low-cost.it/
  http://milanofree.it/milano/eventi/
2. Eating out: Trattorias, Pizzerias, Restaurants
If you decide to go for the 4 course traditional Italian meal in a regular trattoria or pizzeria, here are some guidelines. One thing that may be useful when you check the menu prices is that besides the price for food and drink, a Coperto/Cover charge is always charged from €2-4 per person.
Besides that, tips are not usual in Italy, so they will not be added to the bill or asked for. From this point of view, Italy is a good option for EVS – no extra spending on tips!
Just be careful, Italians really do have 4 course meals with antipasti, pasta, meat and dessert, followed by coffee and a digestivo. So if you want to go out for a truly Italian meal be prepared to digest them all!
If not you can just choose a pasta or meat dish and this is normally enough for lunch or dinner.
Buon appetito!