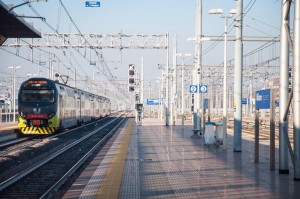 If traveling is your kind of thing and you want to explore Italy then listen up … The next few blog posts are here to give you some useful hints and tips to help get you on your way.
Already you may be aware of the  Trenitalia website  and if like us, It has become your Bible alternatives, you might know of the train Relatively steep prices in Italy, Especially on the arrow high speed trains between cities. Therefore we have compiled a list of the DOs and DON'Ts for traveling by train in Italy and around …
DO:
– BOOK TICKETS IN ADVANCE. This is the most important piece of advice we can give you as it really pays off! Honestly! You can purchase train tickets online up to 2 ½ months in advance When the train tickets are at Their absolute lowest. For example, you can go to Milan from Liguria, Florence or Rome for as little as € 9 one way if you book on Intercity trains When the tickets first become available online.
– Secondly, there are long-distance train tickets book online. For some strange reason unknown to us, train tickets (other than for the regional trains Which are used for shorter distances) Seem to be cheaper if you buy them online than if you buy them from the station. Do not ask us how or why!
– From experience, traveling to places outside of Italy is surprisingly Often cheaper than traveling Within Italy. For example, trains to Switzerland are normally very reasonably priced.
Unfortunately other than planning each long distance trip waaaay in advance, there is not much you can do to get round the high prices.
– For shorter distances by train always make sure you travel on the regional trains Which are much much cheaper. Regional Purchased tickets can only be one week in advance, either online or from a station, and stay the same price even if you're buying on the day you want to travel.
This Allows for a little spontaneity and blackberries you can get from Milan to Lake Como and the surrounding area for around € 5 each way.
If you buy train tickets at a regional train station then they are normally valid for up to 2 months for whatever journey you have paid for the ticket so you can use at any point in this period.
DO NOT:
– FORGET TO VALIDATE YOUR TRAIN TICKET! As regional train tickets are valid for a long time longer available it may be tempting to risk not validating your ticket in the hope of reusing it on another occasion.Unfortunately we would not recommend doing this if you're caught as it is highly Likely you will be fined and This Is not cheap!
– Buy the 2×1 Saturday tickets to major Italian cities Which are advertised by Trenitalia. Although this may sound like a good deal, It Is not actually the cheapest option as the offer Is not valid for the cheapest tickets € 9. It still works out cheaper if you buy the cheapest tickets in advance even if there are 2 of you traveling together!