What brought me to the point where I am now, living in a vast cosmopolitan city of Italy, dates back probably to 2016. By that time I had already explored some parts of the world with my travels, including Italy, tasted life in the United States of America and England, and here I was back again to one of the three small Baltic states, my home country Lithuania, wondering what'll be the next challenge I will face. I wanted it. But it didn't come fast and it was truly uneasy to adjust again to a much slower pace of life back there where I grew up, within the population of the whole country a few times smaller than of those cities I've lived. I think when you start traveling, detect what it feels like to get comfortable being out of comfort zone, there's just no way back to where you were before it all began. But, even though slowly, the right time came: I searched and discovered a couple nongovernmental organizations in Vilnius (Lithuanian capital), in which I took part first as a volunteer and later as an employee. It seemed then that a door to an entirely new unfamiliar world to me has been opened with a bunch of philanthropic people behind it with their mindsets so humble yet unrestricted that it felt as if some new dimension was added to my reality. What was the most important and impressive that those people were concerned not only about their own society and its' problems, but also the world's, especially the youth, our future, by writing and managing large projects based on non-formal education methods, collaborating with other countries, getting involved into synergies, creating the type of space of learning where no one was an outsider and had an access to it if only carried the slightest personal interest and motivation. With my work there I saw first-hand how young adults truly broaden their horizons, boost self-esteem and employability, create friendships that stretch beyond the national borders and last throughout the years (I am my own example, first and foremost). It's the type of maturity that really never fades from newly shaped or strengthened personalities – our memory, consciousness, heart.
   Erasmus+, the program for Education, Training, Youth and Sport, that allowed already thousands of young people to go abroad and gain a life changing experience keeps shaping the image of how we see and promote education in 21st century. It differs from a formal one and it's essential to get familiar with its' non-formal learning philosophy, aims and procedures and know fields that are of interest in order not to waste own time. In the past years I already had a few great opportunities to participate in this EU program by going to short training courses on various topics (health, communication, social campaigning) to Gozo, Ljubljana and London. And it took me about 2 years to find a long-term project abroad that I'd like and could be a part of. Joining Casa per la Pace, the association based in Milan and managed by Mahatma K. Gandhi's principles of nonviolence since 2001, was one of the nicest big decisions to make. The people in the office carry a bright creative energy within themselves and spread it all around, everyone knows what are they passionate about and are truly devoted to the community matters. I assist in coordination of the Italian school for foreign men and women and babysitting their children while they are in lessons as well as of the library (http://www.casaperlapacemilano.it/biblioteca/) of around 1500 educational volumes about human rights, religion, politics, peace and conflict management, environment, theatre of oppressed (which is also active here). Together we participate in or organize ourselves various events such as interactive fairs and exhibitions, as well as sessions to pupils against violence of various forms, prejudices; freedom of expressing oneself, social inclusion, active citizenship, sustainable lifestyle are encouraged, they are provided with information about international opportunities me and many others are using now and that are actually right there in front of their eyes if they just have the courage to try. I also contribute to the field that I've always had a huge interest in – communication – and I have all the creative freedom in the world here in doing graphics and photography. Casa per la Pace is something to call a school of life: all work done here is community-based, we are all there for each other, not to mention the fact that I've joined a foreign one to which I'm adapting slowly and learning to co-exist every day; that is interesting and truly challenging. I think now more than ever before what's my role in this modern consumerist society and what I'd like it to be. My current team is explaining in diverse ways how to be nonviolent and nonviolence is not only about wars and guns, but also about ethnocentrism or a waste of water, or food, or avoidance of doing such a simple daily gesture as recycling. Violence indeed begins with a fork (Gandhi) and the littlest things matter. There's this common belief that by yourself you cannot change the world – not enough or nothing at all – but first mastering a kind unharmful pattern of behavior of oneself sooner or later will gather others behind without even knowing it. We usually don't even discover the power of influence we've made around us doing those little things and probably won't ever and that's alright. The focus should always be on a personal routine anyway. Inner change is a long process, it is divided into periods of our lives, and it has to be patiently respected the way it comes. There's truly no yesterday and no tomorrow but only today to do what seems right and useful. And we here are not a bunch of idealists but rather concerned activists.
        New generations of younger and younger people, dressed in blue jeans roaming the world now with such freedom our parents could have just dreamt about, are those who need not just books and exams now to be educated and ready to live. They cross the borders with a valid passport or without it, they come with a plane or a small inflatable boat and to make space on Earth for everybody intercultural learning is essential. How without it we can meet and get to know each other, express our fears and dreams? I think what offers Erasmus+ is a wonderful platform to begin with. Learning is so universal. The world is still becoming more and more global, cultures mix, many different realities collide for personal, professional or other reasons and at this point without an intercultural dialogue not much would ever function constructively. We must study things we won't ever find in schools or universities and non-formal learning process often even makes you ache a bit: you go daily through some sort of a loss of an old me and it's so much more effective later to remember episodes from own tangible reality how this transformation happened than chapters of some book written by someone else that was once read and cannot be remembered that clearly. Participation in international projects, first and for most, shows how to communicate – how to be your unique self but also accept another individual as someone similar and at the same time different and respect that entirely anyway, how not to be afraid of the unknown, how to liberate ourselves from prejudices, understand cultural relativism and develop ethical conscience, how to deal with each other in a problem-free way, build positive connections and just confront the reality, whatever it brings, in a much braver manner. I already thought I'm an open-minded, tolerant, experienced person, a world citizen, but becoming a part of Casa per la Pace is an everyday learning since the very beginning that's making me realize there's just no final destination to arrive in bettering ourselves and conditions around us together. Joining this NGO in Milan, the cosmopolitan turbulent city of fashion and design, business, thick air, neverending siren noise and piles of rubbish, is a bit odd and if I tell others what I do and where they don't seem to find the connection. It's the city where people walk the same streets carrying different weight: some from their shopping bags and some from their anxiety of simply being unable to approach their human rights. As a tourist in Milan you wouldn't have much time or wish to think about or even notice that, but living in a particular environment shifts perspectives in one way or another. In our nonviolence sessions here we learn that one person cannot really solve the problems that exist on this planet but if we come together with like-minded people having an impact done is more than possible. Here, apparently, is the right environment to find people who see beauty in things other than a visitor would search for or expect. I believe Milan has a heart, it just takes more time to find compelling people and this stupendous ancient authenticity Italy is famous for here among sporadic Gothic and Baroque buildings with urban architecture and tall cranes that are felt immediately in such cities as Rome, Venice, Florence, Bologna and many others. On reflection, even if it takes more patience most importantly I'm where I feel I can grow.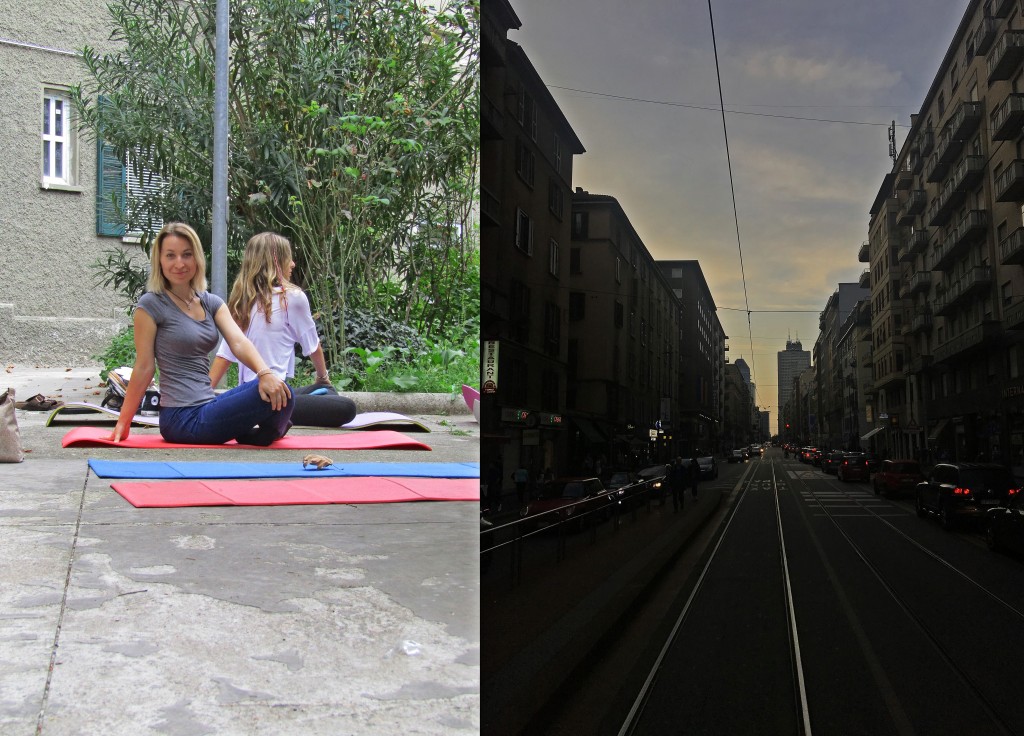 To this day there still are people who occasionally come to me and say: "Focus on yourself and stop saving the world because you cannot save it". I made this personal commitment to do a one-year-project abroad in order not to save anything or anyone and especially by my own, but to develop my line of thought further and possibly affect others that those problems we face are stagnant firstly if our minds are. And that is actually what my humanities degree of university equipped me with – not with some sublime particular knowledge, but rather how to think and what about. Immense flexibility. Autonomous learning. And non-formal education adds a great value to our college and university degrees, because those mentioned life problems are solved by people themselves everyday, not by somebody doing that for them, and exactly here NGO people have a great power – to empower others. I'm happy to belong to a positive movement and during it here I learn to react to sensitive situations sensibly, to relieve myself sometimes from my own reality because my own reality is my mind and I rather choose to enrich it than get stuck in it, to put all the fragment experiences of the past and present into one picture and patiently cope with the little inner voice coming to the surface that is sometimes still misguiding and sometimes finally wise. This ability to live and work internationally, traveling demonstrates how different and actually the same we all are, no matter what streets we truly walk. Moreover, what's really interesting to realize, it somehow makes the world seem smaller, more intertwined than ever before. And on my own I truly won't save any world nor two and it's not in my plans. I just think personal development in various ways, formal and non-formal, is a must in becoming stronger than yesterday and then linking with the right people is what will always going to carry us forward. Where we invest our time today will forever echo in our adult lives and that'll also be the message to pass on to future generations.